Today I will write the shortest recipe in my life: Lemon Biscuits!  It is so short, I have decided never to buy convenient biscuits again as it is quicker making them yourself.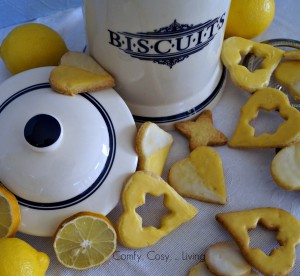 Ingredients:
225g / 8 oz plain flour
110g / 4 oz butter
80g / 3 oz sugar
1 large egg
Zest of two large organic lemons
For the icing: 50g Powder sugar, juice of 1/2 lemon, food colouring (I have chosen white and yellow. Just to challenge the traditional valentine red and pink)
Recipe:
Mix all dough ingredients together and knead them to a firm ball of dough.  Let it rest in the fridge for at least an hour.  But it wouldn't harm to leave it longer.
When the dough is ready, roll it out to about 5 to 7mm.  It's not rocket science, it doesn't matter if it is not to the millimetre exact
 Prick out lovely valentiny shapes and put them on a lined out baking tray.
Bake the biscuits for about 10 min. until nicely golden brown.
Let them cool and finish them off by decorating them with the icing.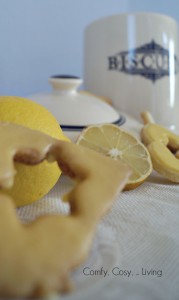 Now I am only left with the question: Storage?!?!?!????????
Years ago, my father gave me a traditional cookie jar for Christmas.  It was kind of my first item for my own household.  I guard this cookie jar with my life!  And I can proudly say, it does its job.  The biscuits stay fresh long enough for us to eat them
 That's is about 2 weeks.
Otherwise I would recommend tin boxes to store biscuits. I have collected a few over the year.  Unfortunately they are mostly decorated with Christmas features.
Do you have any storage tricks for your favourite biscuits?  Do you bake cookies at all?  I would love to grow my recipe collection