Last Sunday I invited special guests to come for dinner.  Martin and Alina, blogging relatives, were brave enough to accept the invitation and try my homemade burger.  Actually it was a bit of a blackmail trick!  Martin's blog, WIHEL, is doing pretty well.  So I thought to "seduce" him with scrumptious food and doing so convince him to help me with some tricks of the blogging trade.
You know what?  It worked like a treat
He didn't only help me speed up my website.  He also spent quite some time explaining me some basics that I couldn't get into my head by myself.  THANKS A MILLION, MARTIN!!!  Hey, what do you think of my blog?  Leave a comment, I'd love to read your opinion.
Saturday (24 hours to deadline), I took the time to test two burger bun recipes.  I had tried a recipe once before last summer, but they turned out bricks.    This time, I hit the jackpot!  The first buns were a bit too sweet for our taste.  Not really suitable for burgers, but perfect for a sweet breakfast or to serve with a traditional English high tea, as an alternative to scones.  The second recipe was just the bun I was looking for!!  I know, I could have gone and bought me a few.  Would have saved me plenty of time.  But I am just too curious sometimes, to see if I can step up to the mark and say NO to convenience food.  So, with a good tune in the background, all ingredients in the basket and the oven on full throttle, I started preparing the burger feast.  This is my selected recipe for the buns: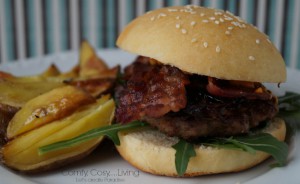 Burger Bun Ingredients:
3/4 to 1 cup lukewarm water  –  2 tablespoons butter  –  1 large egg  –  3 1/2 cups plain flour  –  1/4 cup sugar                  1 1/4 teaspoons salt  –  1 tablespoon instant yeast
How the burger buns are made:
Mix and knead all of the dough ingredients to make a soft dough.   Cover the dough, and let it rise for 1 to 2 hours, or until the mass has nearly doubled.
Gently deflate the dough, and divide it into 8 pieces. Shape each piece into a round ball; flatten to about 3″ across. Place the buns on a lightly greased or parchment-lined baking sheet, cover, and let rise for about an hour, until noticeably puffy.
Brush the buns with about half of the melted butter.
Bake the buns in a preheated 375°F oven for 15 to 18 minutes, until golden. Remove them from the oven, and brush with the remaining melted butter. This will give the buns a satiny, buttery crust.  Cool the buns on a rack.
The burgers are always self-made.  It's way too easy and the difference in taste and quality is definitely worth the effort.  I generally take 1/3 pork and 2/3 beef.  Just season with pepper and salt.  Other spices, I find are mostly overturned by the rest of the burger toppings.  Speaking of toppings; here you can let your creation go wild.  Here are our favourites:
Caramelized onions – bacon – eggs sunny side-up – tomatoes – cucumber
Rocket salad
Do you have any crazy topping ideas? Well, this is our result: